Collations: Book Forum on Nathan K. Hensley's Forms of Empire: The Poetics of Victorian Sovereignty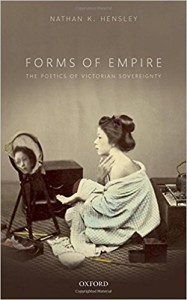 The V21 Collective is delighted to introduce our latest "Collations: Book Forum" with a discussion of Nathan K. Hensley's book Forms of Empire: The Poetics of Victorian Sovereignty (Oxford UP, 2016). A masterful and beautifully written book of commanding scope, Hensley's Forms of Empire  posits a new method of reading the Victorian period's, and more broadly liberalism's, "constitutive antimony: the intimate, scandalous intertwinement of violence and law" (9). Eschewing a more straightforward focus on the "content" of Empire—including "the era's proliferating emergencies, insurrections, or so-called small wars" (6)—Hensley approaches the "curious intimacy between legality and harm" (5) from the perspective of "form," considering "the various shapes language [and other formal features take] when subjected to the intense and distorting pressures of England's project of global rule" (17). By "form," then, Hensley does not simply mean representational form that captures or unwittingly obscures violence, but that performs its own work in "set[ting] ideas into motion" and "reconfigur[ing] the structuring conceptual impasse of liberal modernity" (18). In shaping his objects and method, Hensley looks forward to our own inheritance of this impasse and its myths of liberal inclusiveness and will-to-peace, calling us to "[stand] in solidarity with the human damage still accumulating in our post-Victorian modernity" (36). He also reanimates Victorian form[s] by interrogating the very methods of historical and New Historicist critique that have failed, by privileging critique as something that happens outside (often, as it were, against the grain of) the text, to account for the conceptual work performed by texts themselves—from novels and telegraphic communiqués to lyric poems and war photography—that "comment on…[their] critical act of seeing" and thus supply to us ways to see the world anew.
Collations is designed in contradistinction to a standard book review. A typical book review published in an academic journal offers a monologic response to a work, often quite a while after the work was published. Collations, by contrast, draws three scholars together into more timely discussions composed of reflections and responses. These collated reflections and responses are designed to invite further discussion in the comments. We thus extend the labor of reviewing from mere and finalized assessment to a more open-ended conversation wherein we collectively explore a book's methodological, critical and historical interventions.
Maeve Adams, editor, V21 Collations: Book Forum