Collations: Book Forum on Devin Griffiths's Age Of Analogy: Science and Literature Between the Darwins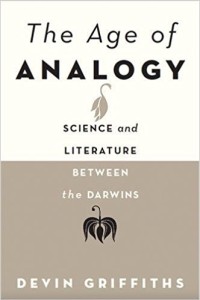 The V21 Collective is delighted to introduce our latest "Collations: Book Forum" with a discussion of Devin Griffiths's book The Age of Analogy: Science and Literature Between the Darwins (Johns Hopkins UP, 2016). Already the recipient of high praise, including a nomination for the British Society for Literature and Science book prize, Age of Analogy "explores the importance of literary modes to the scientific imagination" (8). Griffiths argues that a mode of "comparative historicism" (4) emerged in nineteenth century literary and scientific writing and took distinctive forms in the works of authors as diverse as Charles Darwin, Walter Scott, Alfred Tennyson and George Eliot. As Griffiths contends, the "central gesture" of comparative historicism, including especially analogical reasoning, "is the movement between histories, drawing connections between lives, experiences, and material objects that articulate history as a tense composite rather than an organic whole" (15). Addressing the period "between the Darwins"—between Erasmus Darwin and the grandson whose work he influenced in profound and subtle ways —Griffiths traces relationships between past and present that look toward our own scholarly approaches to (and methodological debates about) literary history and historicism in Victorian studies.
Collations is designed in contradistinction to a standard book review. A typical book review published in an academic journal offers a monologic response to a work, often quite a while after the work was published. Collations, by contrast, draws three scholars together into more timely discussions composed of reflections and responses. These collated reflections and responses are designed to invite further discussion in the comments. We thus extend the labor of reviewing from mere and finalized assessment to a more open-ended conversation wherein we collectively explore a book's methodological, critical and historical interventions.
Maeve Adams, editor, V21 Collations: Book Forum