Collations: Book Forum on Elisha Cohn's Still Life: Suspended Development in the Victorian Novel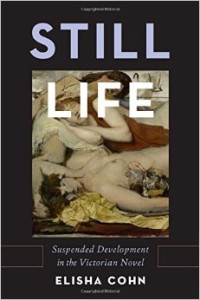 Welcome to the second "Collations: Book Forum" on recent publications in Victorian Studies and related areas of research. We are delighted to discuss Elisha Cohn's Still Life: Suspended Development in the Victorian Novel (Oxford UP, 2016). Cohn's Still Life posits a "new theory of Victorian aesthetics" by utilizing what the V21 Manifesto identifies as "speculative and synthetic methods" that allow for alternatives to the "'historically pervasive resistance to 'theory' in Victorian Studies." Cohn rejects the "plot of individual self-formation" (4) conventionally viewed as central to the Bildungsroman and Victorian ideas of personal development and agency. As an alternative, she explores "lyrical passages of…'still life,'" including "states of reverie, trance and sleep" (2-3) that constitute a kind of "anti-developmental lassitude" (4) and thus offers new conceptions of lyric, subjectivity and the psycho-social dimensions of the novel.
Collations is designed in contradistinction to a standard book review. A typical book review published in an academic journal offers a monologic response to a work, often quite a while after the work was published. Collations, by contrast, draws three scholars together into more timely discussions composed of reflections and responses. These collated reflections and responses are designed to invite further discussion in the comments. We thus extend the labor of reviewing from mere and finalized assessment to a more open-ended conversation wherein we collectively explore a book's methodological, critical and historical interventions.
Maeve Adams, editor, V21 Collations: Book Forum