Collations: Book Forum on Dustin Friedman's Before Queer Theory: Victorian Aestheticism and the Self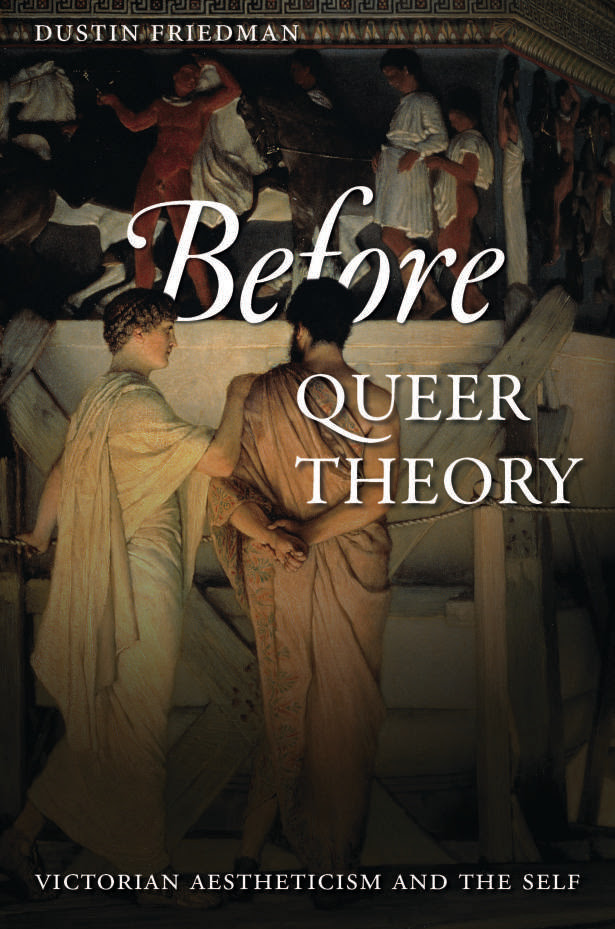 The V21 Collations: Book Forum welcomes Jill Ehnenn, David Agruss, and Richard Kaye in conversation about Dustin Friedman's exciting new work: Before Queer Theory: Victorian Aestheticism and the Self (Johns Hopkins, 2019). Friedman's book stages a key intervention in queer theory by proposing that the queer aesthetes that constellated around Walter Pater should be situated in a genealogy of aesthetic theory that runs from "Kant and Hegel through Foucault to modern queer theory" (21). As Friedman puts it, "queer aestheticism was an important forerunner to modern queer theoretical discourse, insofar as the aesthetes anticipated and addressed similar concerns about desire, identity, and the nature of representation" (18). Each of Friedman's chapters takes up a different figure among these late Victorian aesthetes in order to show how their engagements with the aesthetic and philosophical problems of their day can help us rethink some of the fundamental concepts of queer theory today.
Before Queer Theory seeks to reclaim "negativity" from its Lacanian articulation and redeploy it as conducing a "liberating sense of detachment from oppressive social norms" wherein "queer desire could bring into being radically new ways of perceiving the self and the world in and through art" (2). What this affords queer theory, for Friedman, is the rediscovery of a mode of self-determination that has been obscured by the legacy of poststructuralist critiques of the subject. Particularly in the context of a recent debates about queer aesthetics, Before Queer Theory ultimately aims to furnish in compelling and provocative ways part of "a conceptual vocabulary for queer aesthetic experience [which] is still vital for understanding the unique contribution art makes to the development of oppositional social identities" (187).
Readers will soon realize that this Collations: Book Forum looks different from those of the past. Coronavirus has halted more than our daily lives, as we can all testify. It has made work difficult or impossible. We, the editors, have decided to publish this Forum in its current form because it is a form of our moment. It's not quite complete, but it is meant to be no less honoring of the author's important work. We will complete the Forum as soon as we are able.
Maeve Adams, Convener and Co-Editor
Justin Raden, Co-Editor