Collations: Book Forum on Susan Zieger's The Mediated Mind: Affect, Ephemera, and Consumerism in the Nineteenth Century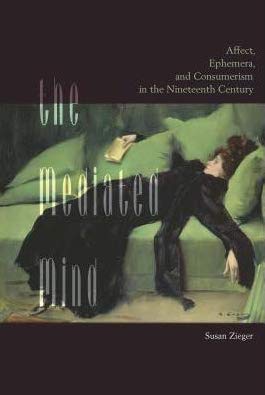 The V21 Collations: Book Forum welcomes Lindsay Wilhelm, Richard Menke, and Kimberly Hall in conversation about Susan Zieger's The Mediated Mind: Affect, Ephemera, and Consumerism in the Nineteenth Century (Fordham, 2018). Zieger's compelling new work explores ephemeral forms of "printed paper and imprinted objects," as various kinds of new media that "touched every region of social life" in the nineteenth century, "[intimately reconnecting] people to themselves, their families, and their social circles in ways they had never imagined" (2). She explores the widest possible range of "interfaces with mass media," from the practice of collecting cards found in cigarette packages to the mystical art of reading pools of ink. In the process, she explores the crucial relationship between "affect and mass culture," examining "the spaces of overlap between mass media and embodied mental states, where social identifications and political alliances might but don't necessarily form" (8).
As Zieger says, looking forward to the present of the past, the book "studies the first mass media consumers" (208) in order, in part, to better understand our own engagements with mass media as well as our anxieties about it. As Zieger suggests, "the concept of mass media remains so fraught because it thrives on an irreconcilable tension between an individualized self, and the shared affect and collective agency that constitute the social" (7). Reflecting on an anxiety most clearly associated with social media in the present, Zieger's book concludes by exploring the "paradox of authentic self-making" proposed in the character of Dorian Gray, whose circulation among readers in "a novel full of queerly coded signs that nevertheless assembled a new community within its mass readership" (18). There is, perhaps then, hope for us modern media consumers yet!
Maeve Adams, Convener and Co-Editor
Justin Raden, Co-Editor