Collations: Book Forum on Nasser Mufti's Civilizing War: Imperial Politics and the Poetics of National Rupture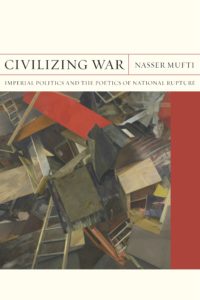 V21 welcomes Will Glovinksy (Columbia), Anjuli Fatima Raza Kolb (Williams College), and Bruce Robbins (Columbia) in conversation about Nasser Mufti's Civilizing War: Imperial Politics and the Poetics of National Rupture (Northwestern, 2018). In exploring the modern understanding of "civil war," Mufti's boldly challenges dominant conceptions of civilization, civility, modernization, and nationalism. He offers a persuasive corrective to the way that social sciences have typically understood civil war through "positivistic lenses such as casualties, rate of casualties, perpetrators of violence, levels of organization, and the status of sovereignty" (4-5) that fail to capture the complex literary historical origins and thicker ideological implications of calling something a civil war in the first place. Examining "tropes, narratives, and metaphors of civil war at three salient moments in the biography of the modern nation-state" (7), Mufti traces a radical transformation of the idea of civil war. He begins by exploring early Victorian representations of internal conflict as the foundation of national unity. He goes on to reveal in colonial and postcolonial representations an understanding of civil war as it was newly conceived there as the ostensibly uncivil, disorderly, and destructive event (or events) that happens in other places–a transfer and transformation of conception from Occident to Orient. As he says, "In its journey from the center to the periphery, the poetics of national rupture increasingly describes a crisis of modernization rather than the motor of industrial modernity. That is to say, civil war transforms into something 'uncivilized' and the occasion for the civilizing mission" (18). Civilizing War captures the fullest scope of its central problematic, addressing Victorian writings while also exploring the modern implications of those representations, carrying us forward into a present that we must, Mufti persuades, confront.  
A personal note from your Convener: I've served as the convener and editor of the Collations: Book Forum for the past year, during which time I have been eager to extend our coverage to many more of our colleagues' wonderful new works and reach you with greater frequency. I'm delighted to say that we are now able to do that because I'm being joined in these labors by Justin Raden, a graduate student at the University of Illinois, Chicago. Justin will be sharing convening duties with me and with serve as my Co-editor. We are very lucky to have him and I know our work will be all the better for his contributions.
Maeve Adams, Convener and Co-editor
Justin Raden, Co-editor