Collations: Book Forum on Ian Newman's The Romantic Tavern: Literature and Conviviality in the Age of Revolution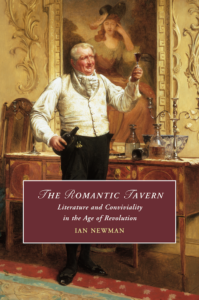 The V21 Collations Book Forum is pleased to welcome Elizabeth Oldfather, Jacob Henry Leveton, and Michael Gamer in conversation about Ian Newman's The Romantic Tavern: Literature and Conviviality in the Age of Revolution (Cambridge, 2019). Newman provocatively reexamines the transformations in the English social, political, and literary landscape through the locus of the tavern. While Romantic literature is strangely lacking in accounts of tavern life, Newman's study shows how taverns make the "alternative arrangement" of literature, conviviality, and politics visible (8). This is in part because of the tavern's heteronomous functionality –– in contrast to what Newman describes as the panoptic architecture of the Victorian pub, "the taverns built in the late eighteenth century were dominated by substantial, elegant, open spaces, where large groups could gather to exchange ideas and develop a sense of themselves as participants in an elegant social world" (12). But it is also because the gradual incursion of political conversation, in the wake of the French Revolution, markedly transformed tavern life from one characterized by a "regime of the convivial public sphere" into "the primary location in which extra-parliamentary political debate occurred" (28, 31).
Newman's study takes us through fascinating explorations of tavern architecture and the various uses of those grandiloquent social spaces before turning to the "two essential practices" (singing and toasting) that unite the multifunctional tavern (111). These practices are, in turn, reflected in the literary output of the age and reconfigure our understanding of the lyricization of poetry. Ultimately, for Newman the tavern materializes the interactions between sociality, politics, and literature "which are constantly crossing paths as historical narratives are given shape" (233), and so gives us new insight into this complex intermingling.
Justin Raden, Convener and Co-Editor
Maeve Adams, Co-Editor