Collations: Book Forum on Daniel Wright's Bad Logic: Reasoning about Desire in the Victorian Novel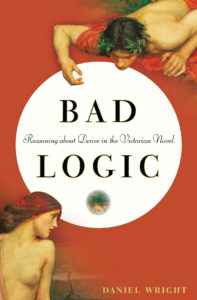 V21's Collations: Book Forum welcomes Dustin Friedman, Ellis Hanson and Tara Thomas in conversation about Daniel Wright's lively, pleasurable (or perhaps pleasure-full) and discerning new work, Bad Logic (Hopkins, 2018), which begins, appropriately enough, with this incitement: "it can seem a kind of magic to put into language the vagaries of desire" (1). Wright's book "considers four forms of bad logic—contradiction, tautology, vagueness, and generality—that appear in the Victorian novel as mechanisms for giving form to the formless thing that is erotic desire, for putting into language desire's force, its opacity, its fuzziness, and its uncertain scope" (2). Combining that clarity of argument with a playfulness fitting to the occasion of an argument about desire, Bad Logic devotes each chapter to one of the forms of bad logic he lists at the outset and a novelist whose work utilizes that form of bad logic to investigate and represent the conceptual, ethical, representational, emotional and social challenges that desire manifests in our lives and in art.
Wright's work not only reminds us what it means to take pleasure(s) in writing and reading in a scholarly way, however fraught those pleasures might inevitably be. Bad Logic also reminds us how urgent that writing and reading can be as we continue to grapple with the challenges posed by the formlessness of erotic desire. Looking forward from the Victorian theorists of logic and language to modern philosophers like Ludwig Wittgenstein and J.L. Austin, Wright reveals the persistence of problems and possibilities that continue to resonate and perhaps always will.
Maeve Adams, curator and co-editor
Justin Raden, co-editor